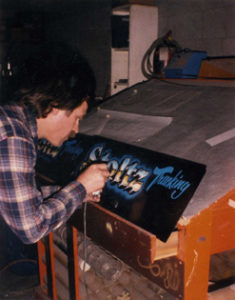 Ken Leaman started painting signs in 1976.  His first sign shop was in Bowmansville. Later he moved to Reamstown where he stayed until 1985 when he moved to his current location in Lancaster.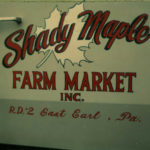 In the "old days" before computers all signs were hand lettered!
In the mid 80's the sign computer started to challenge the hand lettering artists with speed and perfection.  It was
hard at first to admit that times were changing!  Vinyl lettering lasted longer than paint and it was cheaper in the long run.  One of the last things that was replaced was custom airbrushing like the photo to the left.  But eventually software was developed that made it possible to replace the airbrush as well.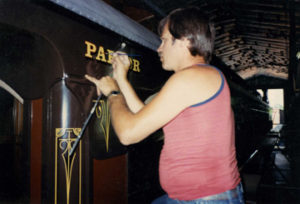 Ken hand lettering and striping the "Marion" car at the Strasburg Railroad.
The 90's brought new challenges in learning new computer software.  New equipment allowed us to develop quality truck lettering that could be reproduced quickly for entire fleets.  But we continued to use hand lettering and pin striping when customers asked for it.  Photos could now be printed on vinyl instead of hand painting images directly on the truck.  This allowed our customers a whole new tool for advertising. 
In the 2000's, hand painted any signs became a thing of the past.  Obviously, we continue to paint our background colors for wood and aluminum signs as well as posts and sign frames. 
Today, all of our signs are lettered in vinyl lettering. If you have been to our shop, this is a familiar site to you. 
Please continue to visit the different pages here on our website and familiarize yourself with what we can do. Take time to visit and "like"our Facebook page as well by clicking HERE!